This decade was touted many times as the dying years for the album as a format, with charts and memes and singles and streaming being its assassin, apparently. However, here we are, a whole ten years older and wider, and the LP is still kicking it, arguably stronger than ever. With vinyl striking back with a vengeance and the internet opening us up to creative visions the world over, the album is here to stay; here are its finest moments in the 2010s.
Listen along with the list here.
---
100. Masana Temples – Kikagaku Moyo (2018)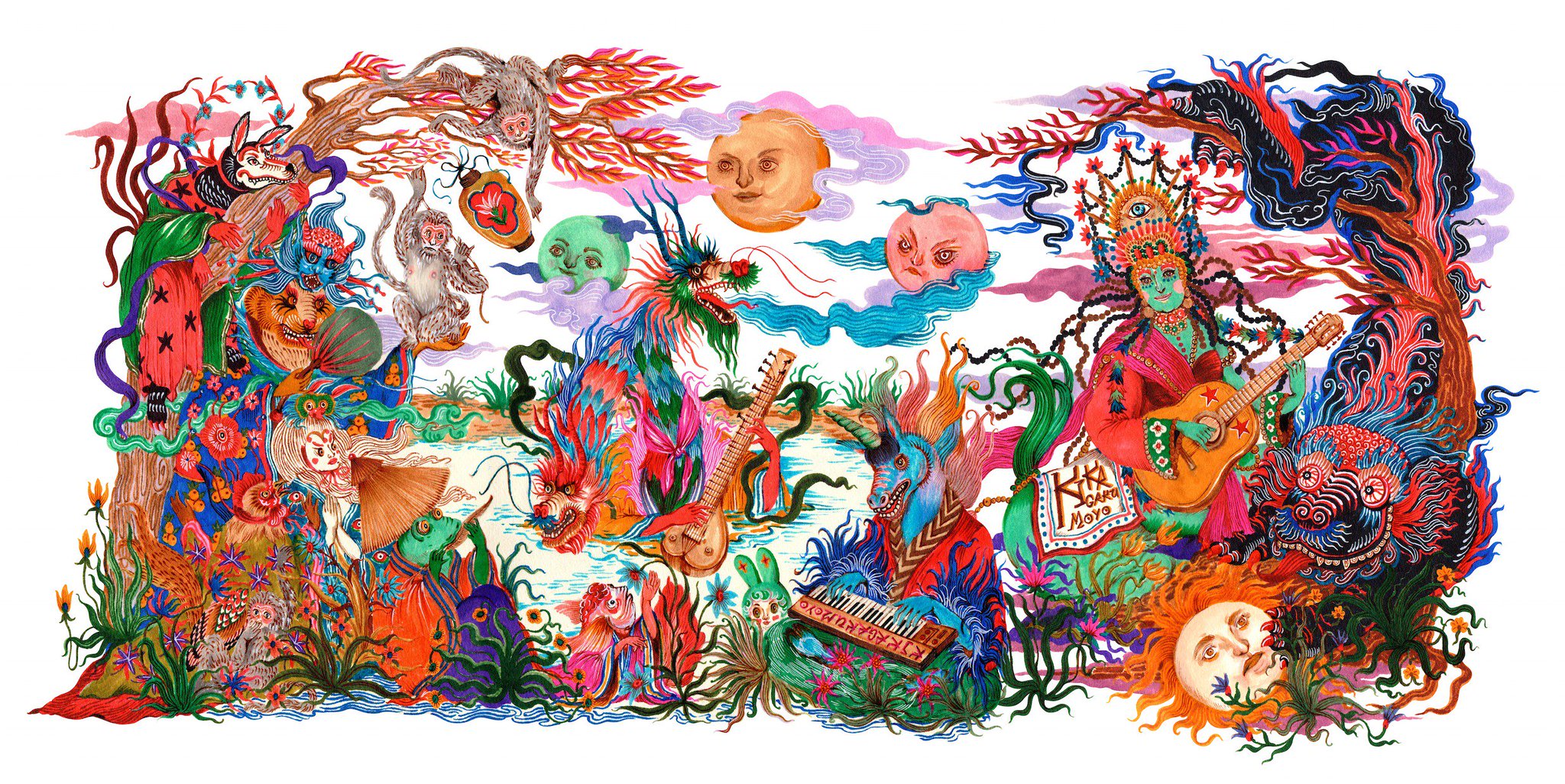 Reigning from Tokyo, this group of former traveling musicians come professional long-haired hippies wield psyche-folk-rock that sounds like its come straight from 1966, and it's a great time. A throwback, perhaps, but a welcome one and, with the recording proficiency of today and the fantastic musicianship on offer here we get a refined, balanced and aptly LSD-hinged journey told through a mix of fuzzy guitar tones and floating vocals.
– reuben.
---
99. Not Passing – comfort (2019)
In a sheath of industrialised grooves and dissonant funk, this Scottish duo presents the trans experience for what it is; endlessly frustrating. Tackling the drudgery of explanation and not-being-left-to-be, the pained wails illustrate through dark humour and dry tirades the sheer monotony of everyday life. Coming in the form of biting assaults like Promises To Heal Divisions and Liberal To All, no one is safe from this critical wrath.
– milo.
---
98. Sleddin' Hill – August Burns Red (2012)
From everyone's favourite bunch of Christian metalheads, this is about as fun a Christmas album as you're ever gonna get. Turns out, heavy metal and Christmas go hand-in-hand, and with modern classics like Frosty the Snowman making guitar-shredding appearances and ancient carol O Come, O Come, Emmanuel thrown in for good measure, it's got everything you need for your present-wrapping turkey-stuffing crusades.
– reuben.
---
97. Nothing Great About Britain – slowthai (2019)
NME Awards antics aside, the Northampton-grown extravagant punk who once called Theresa May a dickhead (SHOCK) actually turned out to have some very intelligent things to say here in his debut record, making "angry songs for a brighter future". slowthai's intentions here are indeed successful, as he turns his personal struggles into a loud, abrasive and thoughtful blend of rap-punk with a very British twist, and it makes for one of the better hip-hop albums of the past few years.
– reuben.
---
96. Random Access Memories – Daft Punk (2013)
Perhaps it shouldn't be a surprise with Nile Rodgers taking such a role in some of the songwriting here, but Daft Punk, with Random Access Memories, managed to make a true blue disco record, almost 40 years after the fact. The blend of electronic music as well echoes the work of Giorgio Moroder, who is rightly tributed in the spoken word track Giorgio By Moroder. This all comes together to make one of the best-referenced dance records of the decade; you can see the passion for the genre that the duo portray here.
– milo.
---
95. Incarnate – Killswitch Engage (2016)
Some more metal, this time from 00s metalcore heavyweights Killswitch Engage on their best form since 2006. Some may say it's just Killswitch by the numbers but it has a brilliant mix which really makes the nuances of the riffery stand out, whilst some particularly strong vocal turns from Jesse Leach put it up there with their best work. But yeah, at the end of the day, this is just Killswitch doing what they do best, and doing it well — the high-energy riffs, catchy choruses, you get it.
– reuben.
---
94. V – Truckfighters (2016)
With the Swedish kings of stoner rock currently in and out of an indefinite hiatus, this may be the last studio album we hear from them in a while. Still, if this remains their last then it closes a genre-defining discography strongly. Fuzzy as all hell with what sounds like about six guitars simultaneously letting loose, this is a gritty, cool time and one that's extremely melodically proficient in a record that gives off an aura of inexplicable chill and energetic passion at once, peppered with moments of tranquility and cathartic release.
– reuben.
---
93. Caustic Love – Paolo Nutini (2014)
In the UK, at least, Paolo Nutini spent the latter half of the 00s being a pretty big deal. His soulful croons and knack for catchy, radio-friendly bops found him on many a Gavin & Stacey soundtrack, that much is true. In 2014, however, he released the R&B showstopper that is Caustic Love. Wracked with nervous funk, coffee house soul and enough singer-songwriter charm to swoon a million housewives, the tracklist is packed with these massive, I'd even call them, anthems, like Scream, Iron Sky and Looking For Something. And then he just fucked off for a bit of obscurity; don't do us dirty like that, Paolo.
– milo.
---
92. Broken Machine – Nothing But Thieves (2017)
Introspective indie-rockers Nothing But Thieves made one of the most pleasant surprises of the decade with their sophomore set here. While their sound reflects a certain mold of style and music, there's little groundbreaking about this, nor massively original. Still, it's the delivery that counts, and with a sparkly clean mix – crispy hi-hats and bouncy bass-lines aplenty – these sadbois put together a consistently enjoyable rock album, with genuinely powerful moments spread throughout alongside a resonating, smart set of lyrical content.
– reuben.
---
91. Ex Lives – Every Time I Die (2012)
Opening with a frantic stab to the eardrums with chunky breakdown-packed Underwater Bimbos from Outer Space and remaining to perpetually stab the eardrums throughout its entire runtime, Ex Lives is Every Time I Die on the brink of their best form and bursting with a pure, unadulterated elastic energy. Perhaps not their smartest effort, but this is post-hardcore at its funnest.
– reuben.
---
90. Bubble Gum – De Staat (2019)
Garnering quite a reputation for being a confrontational act, De Staat closed out the decade with one of the most balls-to-the-wall offerings in their discography. Blending in elements of dance and industrial to their brand of alternative rock, Bubble Gum found the group approaching current events with the kind of sonic abandon that'd warrant a pricked ear. Of course, the songwriting is so damn strong that even the weaker tracks will be endlessly lodged into your skull.
– milo.
---
89. Trust in the Lifeforce of Deep Mystery – The Comet is Coming (2019)
The backend of the decade also saw a rekindling for jazz, spearheaded by artists such as Kamasi Washington and Yussef Kamaal. However, London-based trio The Comet is Coming inject this relentless hard bop with a sci-fi twist, resulting in one of the most epic sounding and catchiest jazz records of the decade. Tracks like Super Zodiac and Blood of the Past feel like they should be soundtracking footage of Martian dictators falling, as Shabaka Hutchings' saxophone is played with such fury, you'll wonder how his head hasn't exploded yet.
– milo.
---
88. Year of the Snitch – Death Grips (2018)
With their ascent through the underground resulting in them being christened as everything from a satanic glitch to a meme among Fantano viewers, Death Grips have arguably become one of the most talked about acts in music. Their latest record, Year of the Snitch, combines the experimental, industrialised hip-hop they've perfected over the years with, particularly in ragers like Black Paint, hard rock and heavy metal influences.
– milo.
---
87. Lonerism – Tame Impala (2012)
Speaking of acts who rose out of the underground, Kevin Parker's Tame Impala began the decade as a whisper in neo-psychedelia and ended it as force in pop music. Lonerism is most definitely the album that injected such a rocket fuel, as those aforementioned psychedelic tendencies came in contact with rock solid songwriting and creative production. To this day, tracks like Apocalypse Dreams and Feels Like We Only Go Backwards are now stalwarts of the genre.
– milo.
---
86. Rescue & Restore – August Burns Red (2013)
While I don't love this metalcore band as much as I did as a li'l 14-year-old rapscallion, they remain a great listen and a beacon of positivity in the oft-not-quite-so-positive metal world. It may not be ABR's best record to date, but Rescue & Restore is possibly the best example of that aforementioned positivity, which shines bright throughout its run-time in its nigh-on inspiring lyrical content and greater affection for the major scale – fun interludes and happy guitar turns aplenty.
– reuben.
---
85. King Animal – Soundgarden (2012)
The start of a fallen giant's modern revival before it was tragically cut short five years on, this was an exciting and satisfying return for these legendary Seattle grunge icons. Their weakest release since the 80s, perhaps, but King Animal exhibits a melodically strong compendium of the sounds that defined the band's career in decades past with their trademark instrumental skill and emotionally affecting delivery, and it remains a pleasing last stand of the band's lasting legacy.
– reuben.
---
84. El Camino – The Black Keys (2011)
The Black Keys indeed dabble in being not the most credible band in the garage rock scene, especially in this decade. That said, El Camino, seen widely as their mainstream breakthrough after Brothers, manages to be consistently catchy and well-written from a pop standpoint. The choruses of hits like Gold on the Ceiling have since become stalwerts of the kind of New York hipster rock that defined the early years of this decade, whether you like it or not.
– milo.
---
83. Heritage – Opeth (2011)
Few bands split opinion like Opeth did in the 10s. Many were left alienated by the Swedish all-black-wearing metalheads' abandoning of their roots, while many felt the new 70s-tinged prog rock direction refreshed a band at risk of growing stale. Taking cues from early Black Sabbath and Jethro Tull alike, this fuzz-infused nosedive into psychedelia and folk-prog-rock, while not with the same memorable bite as your Ghost Reveries or your Watersheds, is a brilliantly sinister, dark take on the genre reminiscent of those sounds of old but animated with this band's taste for all things gothic and strange. It's far from their best effort, but I'm glad that they took this step to freshen things up.
– reuben.
---
82. Delivery – Mikaela Davis (2018)
You couldn't have told me that one of my favourite indie-pop albums of the decade was going to be the work of a harp-proficient songstress who dabbles in psychedelia and funk in the process. Actually, you could, because even on paper that's awesome. Delivery is Davis' debut and, while it's not wall-to-wall classics, the bluesy Get Gone and dreamlike Other Lover exude the kind of vintage serenity that you can only produce with a goddamn harp.
– milo.
---
81. DAMN. – Kendrick Lamar (2017)
To follow-up a butterfly? Indeed, it was always going to be difficult to produce anything on the level of Lamar's 2015 masterpiece. Ditching the deeply soulful jazz samples of its predecessor, as well as its grasp on the concept album, DAMN. goes deep into uncertainty and dissonance with a trap-influenced instrumental palette to match. Of course, lyrically dense tracks like ELEMENT. and the explosive HUMBLE. are stern reminder that, even at his shakiest, Lamar is still the most gifted MC of his generation.
– milo.
---
80. The Living Infinite – Soilwork (2013)
A technically proficient blast of double-peddled, achingly fast metal here, an obscenely catchy chorus there, this is Soilwork doing melodic death metal and doing it their way — dark, heavy, and with a grandeur as cheesy as it is awesome. Indeed, by this point, this was probably the heaviest, and grandest, that they had got, with their trademark madness spilling over onto a second disc for good measure. While perhaps the double album direction here takes away from it more than it adds, the individual songwriting on display here is some of the best the decade had to offer in terms of metal.
– reuben.
---
79. 4:44 – Jay-Z (2017)
What is the ultimate flex as a power couple? Turning a domestic into a best-selling album trilogy. Of course, mainstream music's gargantuan golem couple of Jay and Bey did exactly that. After the damning indictment of Hov that was Lemonade, Jay-Z released an unreserved, detailed apology album that simultaneously added an excrutiating human element to man who made his name off of tracks like 99 Problems and Big Pimpin', and his best record in almost 15 years.
– milo.
---
78. Bad Witch – Nine Inch Nails (2018)
I don't think it's any particular secret that Reznor's Hovel of Fetish & Grovel didn't have the strongest start to the 2010s, with the meandering Hesitation Marks and a couple of decent-but-short EPs defining their output. However, even if it does only clock in at half an hour, Bad Witch is most captivating, best-written selection of tracks since The Fragile. The agitated, distorted frenzy of Shit Mirror and Ahead of Ourselves find themselves adjacent with dark ambient pieces like I'm Not From This World and Over and Out (with middle ground found in the Bowie-esque DnB jazz fusion of God Break Down The Door) to create a dazzling throttling retrospective of NIN's career.
– milo.
---
77. Until All the Ghosts Are Gone – Anekdoten (2015)
Some more Swedish music, this time one for the prog geeks. Initially forming in the 90s, Anekdoten are experienced prog rockers as it goes, and it really showed with this, their solitary 10s release. Complete with branching instrumentals and shuffling drum beats, Until All the Ghosts Are Gone is a complex marvel and one with a journeying sense of floating riffs and expansive song structures, punctuated by a tone equally as sinister as it is powerful. Admittedly, the vocal delivery is a little limited, but this remains an intriguing and great listen.
– reuben.
---
76. Starcrawler – Starcrawler (2018)
Even only in their fifth year as a band, L.A. teenagers Starcrawler have almost international infamy, primarily due to the blood-spitting on-stage antics of frayed lead singer Arrow De Wilde (that's her real name). Their debut record is fairly simple affair, the grungy, glammy take on garage rock being more a vehicle for their theatrics. Those theatrics, however, are felt in the music, Henri Cash's roaring guitars echoing the swagger of Slash through Jack White's distortion set-up. Clocking in at a little over 25 minutes, it grips you in its sludgy debauchery with little intention of letting go.
– milo.
---
75. Run the Jewels – Run the Jewels (2013)
At risk of spoiling the list slightly, you will be seeing the entire discography of Run The Jewels on this list. But are you really surprised? After all, the verbose, quick-witted, effortlessly badass lyricism of vets Killer Mike and El-P, combined with huge, fuck-off-bassy banging beats, has only resulted with the most exciting, consistent hip-hop group in recent memory. Their debut is just the taster however, 33 minutes of dynamic production and a budding but already apparent chemistry between the two MCs.
– milo.
---
74. Twelve Nudes – Ezra Furman (2019)
Ezra Furman, throughout his entire career, has occupied a strange-middle-point between unapologtically old school rock'n'roll musical output and an unapologetically modern approach to gender fluidity. The Springsteen gene (a denim one, I'd bet) has always turned me off from their previous albums, but with Twelve Nudes, the rock-solid songwriting meets a punk-level of energy that's irresistable. Lead single Calm Down encapsulates this, seemingly written as a nervous anthem, with its frenetic jitteriness (a common trait in Furman's vocals) and chantalong chorus.
– milo.
---
73. Stuffed & Ready – Cherry Glazerr (2019)
I hope I don't overstate it that Apocalipstick is one of the best indie rock albums of the century. Okay, that sounds like a bit of an overstatement — but it's true, and following it up was going to be tricky for Cherry Glazerr. I would be amiss to say it lived up to the punchy powergaze of its predecessor, but Stuffed & Ready, not the least bit aided by a select few gEMs of guitar pop (*ahem* That's Not My Real Life *ahem ahem*), still has enough bite to devour a hundred wallowing indie pretenders.
– milo.
---
72. So Pure – V (2019)
You can't get more goth than underground Berlin-based darkwave, and the enigmatic V knows this, you only need to listen to So Pure to figure out that much. The driving kicks and wailing synths whirl around their echoed vocals, all soaked in reverb. It's the stuff that vampire nightclub orgies are made of.
– milo.
---
71. Run the Jewels 2 – Run the Jewels (2014)
Not many people can boast a Zack De La Rocha feature; the man was essentially in the woods since RATM disbanded at the start of the millenium. Sure, RTJ2 is packed the same amount of like-minded artillery tracks as the first instalment, but nothing gets me going like hearing De La spit that "Fuck the slo-mo", and then give us one of his best verses since Evil Empire.
– milo.
---
70. Book of Bad Decisions – Clutch (2018)
New producer and engineer Vance Powell at the helm, we get a Clutch at their grooviest, but at their least concise in years. With a saturating, over-fuzzed mix (I never thought I'd see the day) and a track listing as long as it is disconnected, it's their weakest of the decade. Oh but yes, this is Clutch. All that aside, we got How to Shake Hands, In Walks Barbarella, and H.B is in Control among other choice cuts, with these chunky southern rockers still riding the wave of their confidence and supreme rocking ability, delivering a mighty fine slice of tunes despite encountering some inconsistencies along the way.
– reuben.
---
69. Fear Inoculum – Tool (2019)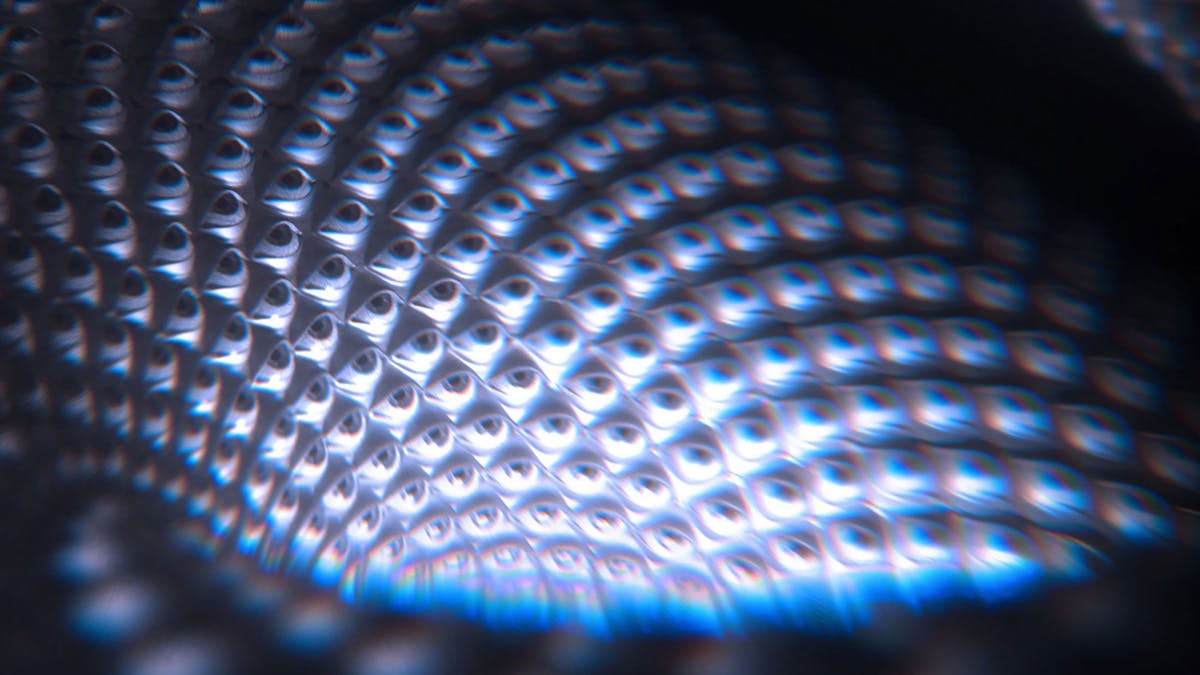 After completely and utterly falling into a Tool obsession earlier in 2019, my excitement for their first record in 13 years was understandably through the roof. Then came about three months of trying to decipher that new record, caught between kids my age calling me a boomer and older guys telling me this was real music. What I have deciphered, is, Fear Inoculum is six fantastic individual songs as parts of a disconnected full album which, as much as I hate to admit, is a little too long, while it lacks that magic spice, bite or variety that seemed to pervade their earlier albums. Still, six fantastic individual songs — and, truthfully, it seems to be a bit of a grower.
– reuben.
---
68. Bi/MENTAL – Le Butcherettes (2019)
Since their bloody inception at the backend of the 00s, Mexican-based Le Butcherettes, and their effortlessly charismatic figurehead Teri Gender-Bender, are a relentlessly striking force in the garage scene. Their latest album manages to also be their best, with their catchiest songwriting to date, the hooks on tracks like give/UP and father/ELOHIM having a stickiness that's only accentuated by Gender-Bender's colourful delivery.
– milo.
---
67. Furiosity – Monster Truck (2013)
Big beards and denim jackets at the ready, these Canadian rockers meant business with their debut record. While there's few groundbreaking features of their bluesy brand of riff-heavy hard rock, that's exactly what it is, and the riffs come in fresh and extra bluesy with a bounce, a crunch and, rather fittingly, they come with the power of a monster truck. To top things off, Jon Harvey is one of the strongest vocalists in the genre today, and what a way this album was for him to kick it off, tune after tune.
– reuben.
---
66. Low Teens – Every Time I Die (2016)
In defense of the seemingly paradoxical simultaneous dislike of most metalcore and love of Every Time I Die, I've spent many hours of my life charting the differences between the two, with the Southern influences being my main crutch. However, with age (I'm 18, let that anger you), I've come to accept that it is the metalcore and emo influences of Low Teens that make the record one of the band's most captivating. While Keith Buckley's surrealist lyricism keeps us out of Pierce The Veil-levels of the aggressively shite, the dramatic gravitas you could find in something like The Black Parade is indeed present (in a more ragged state), and gives it infinitely more weight.
– milo.
---
65. The Getaway – Red Hot Chili Peppers (2016)
Danger Mouse behind the mixing desks and Klinghoffer's spindly frolicking tomfoolery well at hand, the Chili Peppers' very obvious attempt to get a little more modern was pretty on point. Some of the record sounds a tad too stripped back, but a bit of ambition and change won't always come out perfect and on the whole they can be largely commended for their efforts. Not their best album by any stretch but a quantifiable improvement on 2011's I'm With You, and one with a clean, chilled tone and its fair share of memorable tracks.
– reuben.
---
64. King of Cowards – Pigs Pigs Pigs Pigs Pigs Pigs Pigs (2018)
Don't let their post-punk context fool you, this stoner-doom outfit have more in common with Red Fang than IDLES. So much is violently apparent on King of Cowards, Pigsx7 second full-length. The fuzz is here, the lumbering, goliath riffs and booming, fill-heavy drums are all here and accounted for. It's an album that takes its time. After all, how many times have you seen Godzilla go for a PB when destroying Tokyo and that's what this record sounds like; titans laying waste.
– milo.
---
63. Emperor of Sand – Mastodon (2017)
At first, I was blown away by Mastodon's latest, but a begrudgingly agreeable Anthony Fantano review later and I'd come to terms with the fact that this may well be Mastodon's weakest release to date. However, considering how awesome a band Mastodon are, that's hardly even a complaint. What we have here is effectively the spiritual successor to Crack the Skye in its emotionally driven tone and deep-lying, tragic concept, but with a clumsier songwriting hand – lending itself to some cheesy vocal deliveries and a couple of weaker deep-cuts. Even still, Sultan's Curse is one of the band's strongest songs ever, while there remain a lot of standout moments scattered through its run-time — Steambreather, anyone?
– reuben.
---
62. Leveler – August Burns Red (2011)
Complete with a dark, bass-heavy production, Leveler is August Burns Red's heaviest release to date and a fantastic example of the potential that metalcore has hidden within itself. Particularly lyrically strong, these happy metalheads bring us an album which, with about as many beefy breakdowns as you can fit into a 45-minute run and completed with the band's magnum opus in Poor Millionaire, presents a sense of grandiosity of oft-Biblical proportions (big up 40 Nights) capped by the signature soaring guitar turns and hard-hitting riffs fans grew to love the band for.
– reuben.
---
61. Polygondwanaland – King Gizzard & the Lizard Wizard (2017)
Here we are in the midst of the best album name by the best band name — a rare gift indeed. The Australian surf-rockers-come-psychedelic-weirdos don't disappoint us, either. By no means their most exciting record, but Polygondwanaland is probably their most clearly influenced by old 70s prog oddities like Gong and that playful, weird and wonderful energy permeates through the entire tracklist, a flute here and a bopping vocal melody there. Pop in an extra injection of fuzzy guitar tones and robotic vocal turns with the loveliest sounding bass poking through the mix, and you've got yourself a great time.
– reuben.
---
60. The Devil Put Dinosaurs Here – Alice in Chains (2013)
After a solid, if emotional, revival with capable new vocalist William Duval at the helm in 2009's Black Gives Way to Blue, the Seattle icons stripped back the emotion here and gave us an album far more focused on the groove and crunch of metal-drenched grunge at its heaviest with the sheen of modern production values. Truly, it crunches and it wades like a Tyrannosaurus, and it's fantastic.
– reuben.
---
59. Sittin' Heavy – Monster Truck (2016)
Furiosity kicked off proceedings rather furiously indeed (heh), but Sittin' Heavy ensured these chunky rockers were here to stay. If the previous record delivered riff after riff-hinged riff, this sophomore release developed upon that with a few spadefuls more positivity (hear the absolute smile-fest that is For the People) and a fair share more musical variety. A mix of slower ballads and raucous blasts of rock brilliance delivered with a proud keyboard presence and a love of all things cheesy. It's just so much fun.
– reuben.
---
58. Floating Coffin – Thee Oh Sees (2013)
Over the past 15 or so years, John Dwyer, and his forever-eponymously-deviating band, have solidified their noodly-way into underground icon status. This full-throttle rager of an album, opened by one of their "biggest hits" in the breakneck I Come From The Mountain, acts as a showcase of guitar wizardry in all its forms, with phat riffs, endless widdly-diddlies and effects-laden solos aplenty.
– milo.
---
57. Lemonade – Beyoncé (2016)
From a contextual perspective, this is easily one of the most important artistic statements of the decade. "Hell hath no fury like a woman scorned" is an idiom as old as time, and one that can chained to this album like a slogan. However, it's particularly compelling seeing Beyoncé, admittedly one of the most powerful personalities in music anyway, but one who had been presented in standard pop diva context (also one who's lyrics had included "All up in the kitchen in my heels, dinner time" — is this the 70s), go so hard. You also can't underestimate the inspiring strength in racial and gender identity that the artist stamps all over this record. It's a big deal.
– milo.
---
56. Time & Space – Turnstile (2018)
Here we have a 25-minute blast of back-flip-inducing tours of chugging bass-lines and tenor vocal screams atop a bed of scratchy power chords and smashed drumbeats, peppered with forking guitar offshoots and the odd jumpy inclusion of piano. While on repeat listens it doesn't retain quite the same exciting energy as it hits you with at first listen, this album exemplifies one of America's best punk bands on the brink of their best form.
– reuben.
---
55. Nonagon Infinity – King Gizzard & the Lizard Wizard (2016)
Yielding chains of psychedelic nonsense and melding them with garage-prog-jazz-rock-metal stylings, Nonagon Infinity is an infinitely ridiculous album — ohohoho, delightfully devilish, Seymour. While I have my problems with the over-saturated, muddy mix marring it, this is an album which is almost obnoxiously ambitious, seeing the world's stupidest, cleverist musical maniacs create a never-ending spiral of rollicking, boundless groove.
– reuben.
---
54. One of Us is the Killer – The Dillinger Escape Plan (2014)
Step into The Dillinger Escape Plan's world, a place littered with fesses-covered singers and making confusing arithmetic into guitar progressions. While I can't honestly claim to have heard all of this band's work, this is the best I've yet come across and a gruesome, loathsome, literally heinous exhibition in rapidly crushing power chords and earsplitting screams. Yet, with some moments of measured serenity here and there and a spicy selection of riffs and biting melodies, it's a great listen.
– reuben.
---
53. We're Here Because We're Here – Anathema (2010)
Reigning in from Liverpool, this thoughtful neo-prog band somehow simultaneously for the most part ditches their gothic influences whilst having H.I.M frontman Ville Vallo feature in the most confusing juxtaposition of the century, entering the new decade fresh and as pondering and wonder-struck as ever. Complete with poignant piano sections and seasoned with the odd climactic power chord atop a bed of poncy floating vocal harmonies, this is cheesy stuff, that can't be denied, but oh is it good. With some genuinely beautiful moments throughout (including A Simple Mistake, one of the best songs of the genre in a long time), this is a sunny, emotionally potent time and that one comes recommended to any prog fan.
– reuben.
---
52. From Parts Unknown – Every Time I Die (2014)
While Low Teens wielded an emotional depth uncommon for an ETID album, From Parts Unknown, their *best* album, sees them truly playing to their strengths for the entirety of its batshit 35 minute runtime. Hectic takes on its purest aural form on this one, with breakdowns fitting of the genre, while Buckley's vocal dexterity sells everything from wildman howls to soulful croons.
– milo.
---
51. Silver Tongues – Crows (2019)
With express permission from Joe Talbot (my personal leader) to make as much noise as their hearts could bear, London four-piece Crows capped off the decade with an album that throws post-punk all the way back to its Mancunian roots. With the reverb coating every guitar and vocal here, the band's mournful style of punk songwriting has a defeated quality to it, to the point where the Joy Division comparisons write themselves. However, bringing the heaviness we're seeing in today's post-punk helps to both modernise it and distinguish it from its historical influences.
– milo.
---