Stephen Bruner has, over the years, made himself known as one of the most eclectic bassists the world has seen for a very long time. Playing with everyone from Suicidal Tendencies to Kamasi Washington (a Grammy-winning Kendrick feature in between), Bruner, or Thundercat, has collaborated with producer Flying Lotus on a number of increasingly-favoured solo albums; 2017's Drunk being lauded all over the shop. Three years later, and the passing of close friend Mac Miller, we have its follow-up It Is What It Is, his first since becoming somewhat of a small phenomenon. Whether it acts as Drunk's hangover, however, remains to be seen.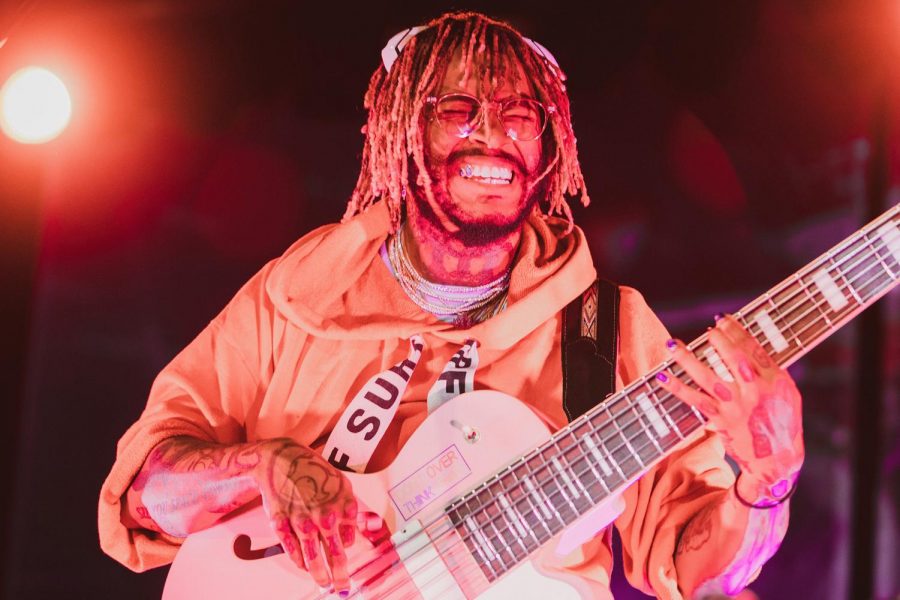 Preceding singles like the meandering King of the Hill and irreverent Dragonball Durag indicating, the tone of the album predictably flutters between intergalactic and amusingly stupid, with FlyLo's spacious production all over this thing. Spanning over the 15 tracks are a number of short, 2-minute-shy taster tracks, much like there was on Drunk. Like on that record, I think that, while they are wholly pleasant-sounding and an exercise in the record's genre-bending, technically impressive sounds, their brevity makes them feel more like interludes or, at the very most, very polished demos.
Tracks like How Sway are a key example of this, as well as my main instrumental gripe with the album; the widdly-diddly. While Thundercat is undoubtedly one of the most gifted bassists of his generation, his tendency (a suicidal one, you might say a-haw-haw) to trail off on double-time noodling, and out of the favour of the groove, can become tiresome on multiple listens. Don't get me wrong, it has its time and place, but it often feels unnecessary, even masturbatory at points — like a group of thirty-something Eminem rip-offs shovelling triplets down your throat.
Despite this, there are number of rich bass grooves that outweigh the noodling. Black Qualls, the album's lead single (and best song, but don't tell anyone), is wielding one of these 'lines like a thicc python of funk, if Bootsy Collins threw it on a bouncy castle. The track immediately kicks off on a P-Funk-esque driving kick-hi-hat beat, on which that bass is just buoyant, before mellowing out to the tune of Bruner's shamelessly old-school falsetto. Speaking of shamelessly old-school, we've got Steve Arrington (of Slave legend) on this thing, bringing the bonafide creds that few people could dream of having. His rugged croons provide a tangy contrast to 'Cat's vocals, and fit with the bassline like a puzzle of funk. We've also got verses from The Internet's Steve Lacy and Childish Gambino, the former lyrically exploring success and paranoia on some really great lines ("Just moved out of the hood, doesn't mean I'm doing good"), all being tied together by the uplifting, optimistic "No more living in fear" hook.
The darting I Love Louis Cole, featuring the titular drummer, is another of the bright spots. Though Bruner undeniably keeps up, with a hard bopping bassline, Cole's precise, jazzy drums are the star here — sidewinding and ricocheting with a rejuvenating vigour.
The track also precedes a number of sonic assets to the album. FlyLo and 'Cat's collaborative production efforts means that the space on the album is always filled with a quirky synth sound, or some rousing strings, maintaining that vivid instrumental colour. Secondly, and more pertinently, the drums on this thing, while ranging in style, are always clean and crisply mixed, which is everything to album like this — no one wants muddy drums.
Thundercat's falsettoed vocals are both a strength and a weakness, due to how they provide an airiness over the dense grooves but also lack a full-sounding melody; sometimes erring on the side of breathy and inconsequential. Tracks like Miguel's Happy Dance suffer because of this, as, lyrically, the themes of emotional performance, pretending like everything is fine, add a fascinating dimension to the optimistic motifs of the album.
Admittedly, however, the lyrics are not all as profound, many ranging from, in the best possible way, childish-to-romantic-to-horny. The corny brand of dollar-store romanticism on Overseas makes it one of the more enjoyable songs here, especially with the faux-angelic backing vocals and Zack Fox's chuckle-worthy closer; think less Seduction 747, more Desperation 747.
This leads, with exceeding amounts of sloppy-toppy, into Dragonball Durag, the second single. Lyrically very similar to Overseas, 'Cat is persistently trying to win the affections of a fair lady with his smoothest moves and the titular piece of anime-themed headwear. Yielding lines like "I may be covered in cat hair/But I still smell good", it's closest we've come to the artist matching his music to his meme-worthy aesthetic. Instrumentally, the song feels like Them Changes minus the sexy dread, with a steadily grooving bassline, sunny, refreshing production and lo-fi drums.
As the album hits its downturn, the seedier, more nocturnal movements and shapes begin to be cut, similar to some of his previous work. The aforementioned King of the Hill finds funk in the shadows, with a tip-toeing little synth break in the bridge. As the slightly-departing Fair Chance (with Ty Dolla $ign and Lil B feeling comfortable and minimally interesting) and Unrequited Love, the album veers all-too-close to a Weeknd-brand of sulky R&B, Bruner's falsettos both keeping it afloat and becoming tiresome. The album closes on the eponymous It Is What It Is, showing Thundercat, our chained-and-duragged hero from the offset, ultimately defeated. It's a poignant finish that would leave anyone on a downer, with the vibrant drums closing out on a note of loss.
Overall, It Is What It Is doesn't see the same amount of innovation on Thundercat's part, with the instrumentals being similarly groovy, if often frustratingly obtuse. The similarity between my critiques of Drunk (influx of short songs, overly-complex riffing) show that he hasn't moved that much since his last release. Despite this, the collage of moods, plus how bright and fun-loving it can sound if it wants to, makes it worth a listen.
---
7.
---
best tracks: Black Qualls, Dragonball Durag, Overseas, I Love Louis Cole
– milo